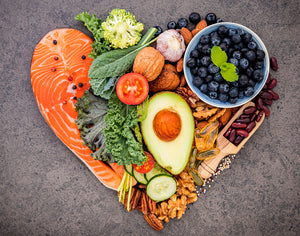 Top 10 Heart Healthy Foods
In no particular order – here are our favourite heart healthy foods and the key health benefits they bring:
Salmon
Excellent source of Omega-3 fatty acids, which have demonstrated a decreased risk of several cardiovascular symptoms. An intake of 2-3 portions of oily fish a week can provide noticeable benefits to heart health.
Spinach
Spinach's Alpha-linolenic acid (ALA) content is very helpful to the cardiovascular system. ALA can help prevent excessive inflammation, especially in blood vessels.
Tomatoes
Lycopene, an antioxidant, is known for it's ability to help lower the risk of cell damage in the bloodstream. Tomatoes have also been proven to help lower LDL (bad) cholesterol and triglyceride (blood fat) levels.
Almonds
Have been shown to help stabilise blood sugar levels and reduce free radicals (oxidants)
Olive Oil
Polyphenol content can lower the risk of oxygen damage to fats in the bloodstream, improve cholesterol balance and help prevent blood platelet clumping
Asparagus
Regulation of the amino acid homocysteine, which, in high quantities, can be a risk factor for heart disease. Asparagus also contains useful amounts of fibre and has anti-inflammatory and antioxidant properties.
Blueberries
Have been shown to improve blood fat balance, reduce total cholesterol, raise HDL (good) cholesterol and lower triglycerides. Further research has demonstrated abilities to protect blood vessel structures.
Flaxseeds
Very good source of omega-3 in the form of ALA. Flaxseeds' lignans (high in antioxidants and fibre) can help prevent blood vessel damage from oxidation and have an anti-inflammatory effect. Fibre content can help provide a favourable cholesterol balance (between good and bad cholesterol).
Avocado
Can lower the risk of inflammation and oxidative stress. May reduce excessively high cholesterol, homocysteine and blood fat levels. Also contains useful levels of ALA, vitamin B6 and folic acid.
Dark chocolate
Chocolate with a cocoa content of 70% or more is fairly rich rich in several minerals and even contains fibre. Best eaten in moderation due to sugar and calorie content however (sorry!)
---