---
---
Igennus Pure & Essential Live Cultures+ Lab4 Probiotics® has been expertly formulated to provide comprehensive digestive health support.

30 capsules

Vegan, Kosher, Halal.
Free from: gluten, wheat, dairy/lactose, soya, yeast, fructo-oligosaccharides (FOS), artificial colours, flavours & sweeteners; not tested on animals; non-GMO.


25 billion CFU live bacteria
4 clinically proven strains
Helps support symptoms of IBS, constipation and aids gut health
No refrigeration needed
Non-bloating & FOS-free prebiotic


Each capsule provides a potent dose of live bacteria, calcium and vitamin A. This unique vegan blend helps to restore friendly gut bacteria, protects the gut lining and supports the production of digestive enzymes. Formulated for everyday use, simply take one daily with food. 
Each capsule of high-potency Lab4 Probiotics® contains 25 billion live bacteria, with four important strains of Lactobacillus and Bifidobacterium. Microencapsulated, stable and acid-resistant, this clinically studied blend is proven to reach the gut alive, restoring balance between good and bad bacteria.
Added vitamin A (as beta-carotene) supports gut barrier integrity. Plant-based Aquamin® calcium aids digestive enzyme production and acts as a non-bloating FOS-free prebiotic, assisting bacteria through the harsh stomach environment and supporting gut colonization.
Directions:
Adults: 1 capsule daily with food. Do not exceed the stated dose.
Ingredients: Prebiotic Aquamin® TG; Lab4 Probiotics® blend; capsule shell: hydroxypropyl methylcellulose; bulking agent: microcrystalline cellulose; beta-carotene; anti-caking agents: sunflower lecithin, rice fibre.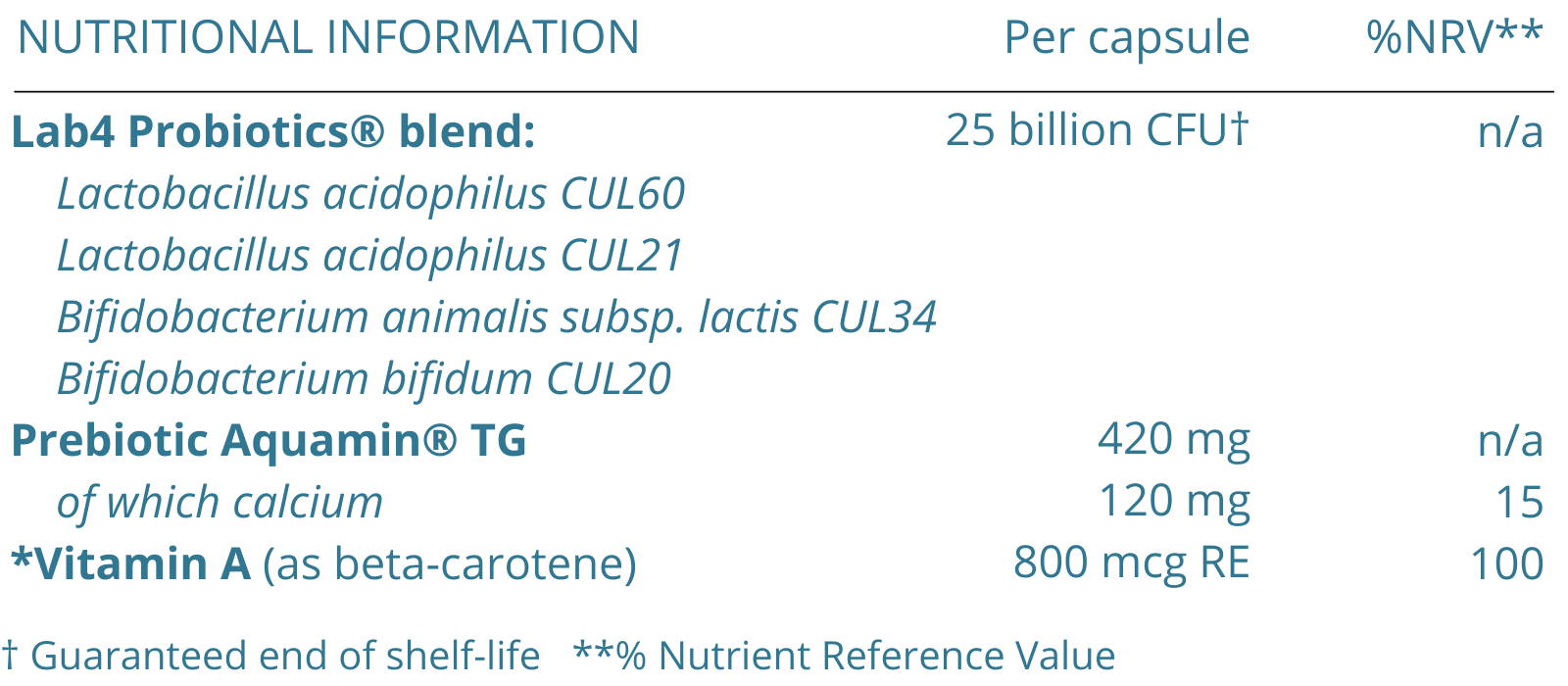 ---